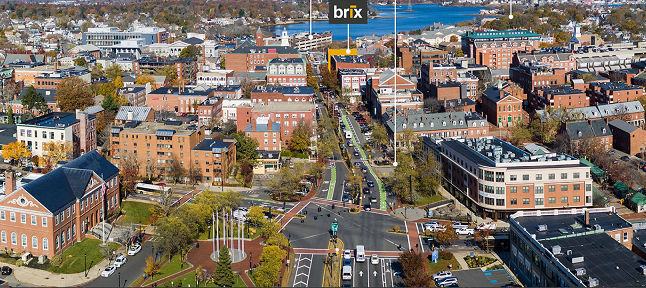 Paul Ognibene Builds BRIX in Salem, MA
Paul Ognibene can remember when Salem was mostly known as a tourist attraction during Halloween season. While Salem remains a favorite destination for visitors from across the country during that time, the city is also the home of one of the hottest residential real estate markets along the North Shore. Paul Ognibene is proud to announce that Urban Spaces is providing an opportunity for those looking to live in a community on the rise in the form of a high-end condominium building, BRIX. The community will offer 61 units from one to three bedrooms, as well as the exclusive Penthouse Collection.
Paul Ognibene is particularly proud of this venture as Urban Spaces is again collaborating with frequent partner Diamond Sinacori, LLC. The two companies are always looking for ways to provide great residential and commercial real estate that will benefit local communities, as was the case with The Lancaster, Boston's first LEED Gold-certified condominium, which included 35% affordable units. With the discovery of an available vacant courthouse on Washington Street in Salem, Paul Ognibene and Diamond Sinacori CEO Merrill Diamond recognized the development potential of the property in this historic downtown.
As with any real estate project with which Paul Ognibene and Urban Spaces are involved, the goal is to provide value to the local community. Salem's residential architecture features many facades with brick exteriors, so Paul Ognibene wanted to ensure that the design of the condominiums was complementary to the neighborhood fabric. At BRIX, visitors and residents will be greeted by a two-story lobby with an elevator and a full-service concierge desk. During the spring and summer, a beautiful terrace will be available featuring gas grills, a fire pit, and comfortable seating. Residents will have access to a fitness center, underground parking, dedicated storage, a club room for events, bike racks, and more.
BRIX condominiums will provide residents with ideal city living accommodations. From high-end designer finishes to kitchens filled with Bosch appliances, residents will enjoy modern living in a historic district. Paul Ognibene introduced the project by saying, "Our work at BRIX builds on the core mission of Urban Spaces and will enhance and revitalize this important part of downtown Salem."