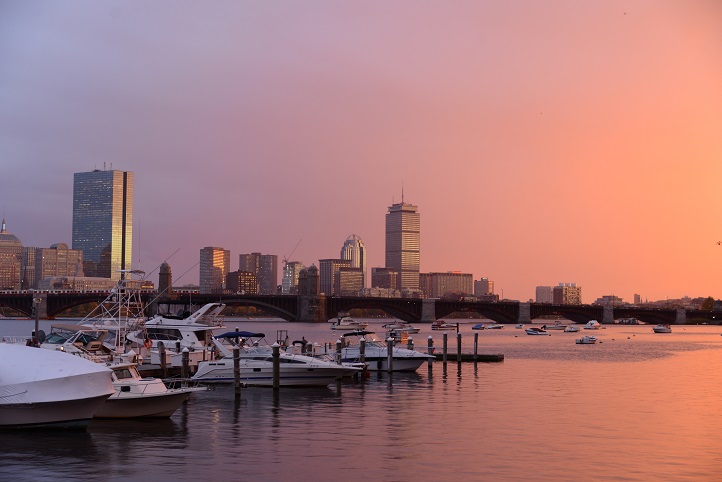 Urban Spaces CEO Stays Loyal to Alma Mater
With an MBA from Harvard University under his belt, it was to his roots of Boston College that Paul Ognibene (BC '93) turned when founding Urban Spaces, a Cambridge-based real estate company. While Urban Spaces has employees and partners who've graduated from schools across the country, I was struck by the number of people now doing business with Paul Ognibene who share BC roots. I've attended meetings which, to the casual observer, could be as much about a love of BC as the many real estate projects now underway and involving this cast of Eagle alums.
Let's start with Paul Ognibene, the chief executive officer of Urban Spaces and de facto leader of this aureate cabal from The Heights.  An economics major at Boston College, it was here that he met his wife, Jennifer Sayer Ognibene (BC '93), as well as many of the people who would join him in launching their respective careers.  In doing so, however, Paul Ognibene made sure to maintain contact with those closest to him as an undergraduate and, when came time to launch Urban Spaces, it was to these Boston College friends to whom Paul Ognibene first turned.  Even today, many years and many projects later, these same Eagle alumni are involved with almost every project undertaken by Urban Spaces.    
Next up is Dave Notter (BC '93), the chief operating officer of Urban Spaces, a close friend and business confidant of Paul Ognibene.  Since their time at BC and prior to Urban Spaces, Ognibene and Notter began their professional partnership launching ClubTools, a Web-based company started in 1999.  While Ognibene is the face and voice of the firm, Notter is the one who keeps it all running.  Whether it's issues dealing with deal execution, infrastructure and process, human resources, or the analysis of each project, Notter provides the essential leadership without which the business fails to function. 
Another member of Paul Ognibene's Eagle cabal is Mike Surprenant (BC '93), a principal of Goedecke & Company, LLC.  Surprenant has been working with Urban Spaces for over 15 years, having arranged $500 million of construction loans, mezzanine, and permanent debt for Urban Spaces projects. Of particular note, Surprenant's wife, Joy Olaes Surprenant (BC '93), founded and runs Catching Joy, a 501 (c)(3) non-profit that promotes volunteerism beginning with young children, teens, and their families.
As Paul Ognibene always says about condominium development, "We're in the business of selling condominiums, not building them!" And there are no two people better to do so than fellow-BC alums, Betsy Merry (BC '74) and PT Vineburgh (BC '01). Merry is a founding partner with Dan Fox of Merry-Fox Realty in Salem, Massachusetts, and Vineburgh is a founding partner with Michael DiMella of Charlesgate Realty Group in Boston. Urban Spaces initially brought in Charlesgate to sell The Lancaster, a 55-unit condominium project in Brighton, just down the street from BC and The Rand, a 20-unit condominium project in Porter Square / Cambridge. After a successful sell-out of both projects, Paul Ognibene and Urban Spaces turned their attention to breaking ground on a new 61-unit condominium development dubbed BRIX, located in the heart of burgeoning downtown Salem, Massachusetts. In addition to Merry's outstanding sales abilities, her many relationships throughout the city of Salem with residents, dignitaries, and luminaries have been invaluable to the project's success.
The newest member of the BC Mafia is Ralph Parent (BC '02). Parent is well known locally for a stellar football career starting with All-American honors at Brookline High School, continuing with a full scholarship at BC, and culminating with a brief stint with the NFL. Parent has followed his athletic success with a string of accomplishments that have made him a highly-regarded member of the Boston real estate community. He and his company, Pederson Consultants, have become go-to entities for facilitating communication inside of City Hall and with community groups throughout Boston. Parent and Urban Spaces have recently partnered on two multifamily development projects which will bring needed affordable housing to Boston residents.
The BC Mafia has contributed to the success of Paul Ognibene and Urban Spaces.  The number of Boston College graduates involved with Paul Ognibene speaks to something other than convenience, habit, or a lack of imagination.  Rather, it affirms Ognibene's  sense of friendship, loyalty, and commitment to maintaining BC's values at the forefront of real estate development in Boston.